FREE PLANNING GUIDE!
Successor Trustee Checklist
Discover the steps necessary to administer a loved one's estate after their death or incapacity.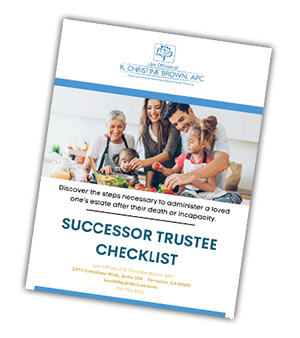 A Successor Trustee is responsible for managing the Trust after the original Trustee can no longer do so. This may be due to death, incapacity, or resignation.
If you have been named as the Successor Trustee of a Trust, it is important to understand what your role entails.
The specific duties of a Successor Trustee will vary depending on the terms of the Trust and the assets held in the Trust. However, there are general duties that all Successor Trustees must perform that we will cover in this Successor Trustee Checklist.
Download Your Free Copy Now!
Our hope is that this guide helps to lessen some of the anxiety and stress that you may feel as a Successor Trustee and gives you a roadmap to follow so that you can complete your duties with clarity and ease.
Please do not hesitate to contact us at 310-782-6322 if you have additional questions or need assistance.