FREE PLANNING GUIDE!
Legal Planning for Children and Young Adults with Special Needs 
How to Put a Fortress of Protection Around
Your Child Through All of Life's Transitions
By:  R. Christine Brown
Access Your Free Copy Now!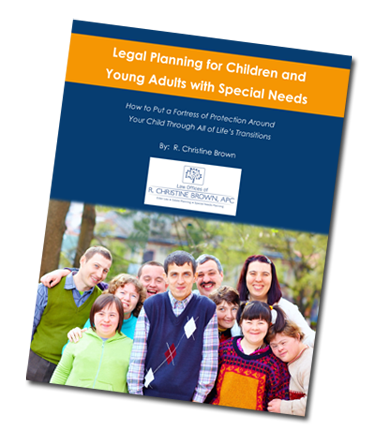 Planning ahead for a child with disabilities is an extremely important and time-sensitive task.  Your child is counting on you to create a legal and financial plan that not only protects him or her now, but well after you are gone.
Special needs planning makes that a possibility and gives you some level of control over the future.
We wrote this e-book as a basic overview for busy parents who simply need a roadmap for the future and simple action steps that tell them what to do and where to start.
We know that your time is stretched thin, and that you're possibly overwhelmed and confused by the myriad of choices that need to be made throughout your child's lifetime.
The most important steps you need to take from a legal perspective are outlined in this short e-book. They include:
How to choose legal guardians who can raise your child if something unexpectedly happens to you.
How to ensure that the guardians you choose have enough resources to provide your child with a lifetime of care.
How to handle the process of guardianship once your child turns 18 so you can continue making medical and financial decisions on his or her behalf.
Alternatives to conservatorship if your young adult is high-functioning and semi-independent.
How to set up and fund a Special Needs Trust so your child has resources safely set aside for the future that won't jeopardize government benefits.
How to use ABLE Accounts to save an additional $100,000 tax-free.
Why you need a team of trusted advisors NOW, and who should be on that team to ensure the long-term care and protection of your child
How to avoid the most common planning mistakes made by parents of children with special needs.
Access Your Free Copy Now!